Botanicals, Cannabinoids
& Cancer
Common uses in palliative care:


pain, nausea relief (associated with chemo & radiation), appetite stimulation (7)
Therapeutic potential:
Anti-tumor effects seen in various cancer types- dependent upon cancer type and drug dose/concentration (vitro & vivo studies)(5,6,7)
Roles of endocannabinoids: CB1 receptors are primarily in Central Nervous System, CB2 receptors primarily expressed on the surface of immune cells.

Most studies suggest that CB receptors and their endogenous ligands are upregulated in tumor tissue and that the overexpression of ECS components correlates with tumor aggressiveness (5,6).
A tumor suppressive role of the Endocannabinoid System is also seen. (5)
Experimental studies show anti-tumorigenic properties: inhibits tumor cell proliferation, induces apoptosis (Cell death) in vitro, block angiogenesis (new blood flow) and prevents tumor invasion/metastasis in vivo. (7, 8, 5,9).
CBD has been shown to preferentially inhibit survival of breast cancer cells by inducing apoptosis and autophagy (12)
Other Compounds Active in Cannabis relevant to Cancer:
Anxiolytic (anti-anxiety) via increases in serotonin and dopamine
Normalizes CD4/8 ratio (white blood cell markers), often altered in cancer
Produces apoptosis (cell death) of breast cancer cells
Most common monoterpene in cannabis

Decreases pain and tension, spasms, insomnia, and nausea
Found in cannabis seeds and roots - free radical scavenging and anti-cancer activity
Purified from hemp seed hull, shown to have anti-cancer properties
Has shown to have cytotoxic properties and may fight against some cancers

Rich in hemp. In vitro studies show EPA/DHA can form endocannabinoids that promote autophagy and apoptosis, augment chemotherapeutic actions (increase effects of therapeutic agents), and induce cell cycle arrest (prevents growth of cancer cells) .
Certain Monounsaturated and Polyunsaturated fats newly identified in cannabis act similarly to endocannabinoids in the body.
Cannabinoid Effectiveness in Relevant Non-Cancer specific symptoms:
Treats conditions associated with low levels of endocannabinoids; Replenishing the Endocannabinoid system improves pain threshold, sleep patterns, mood/affect, and digestion.
Revitalising for the HPA Axis (intimately involved with stress response and energy)
Anti anxiety, Anti-depressant effects , antipsychotic, neuroprotective properties (13)
Vast majority of studies showed that antioxidant supplementation during chemotherapy significantly reduced toxicity of drugs.
Cancer Care & HE Products:
Liquid error: product form must be given a product
Liquid error: product form must be given a product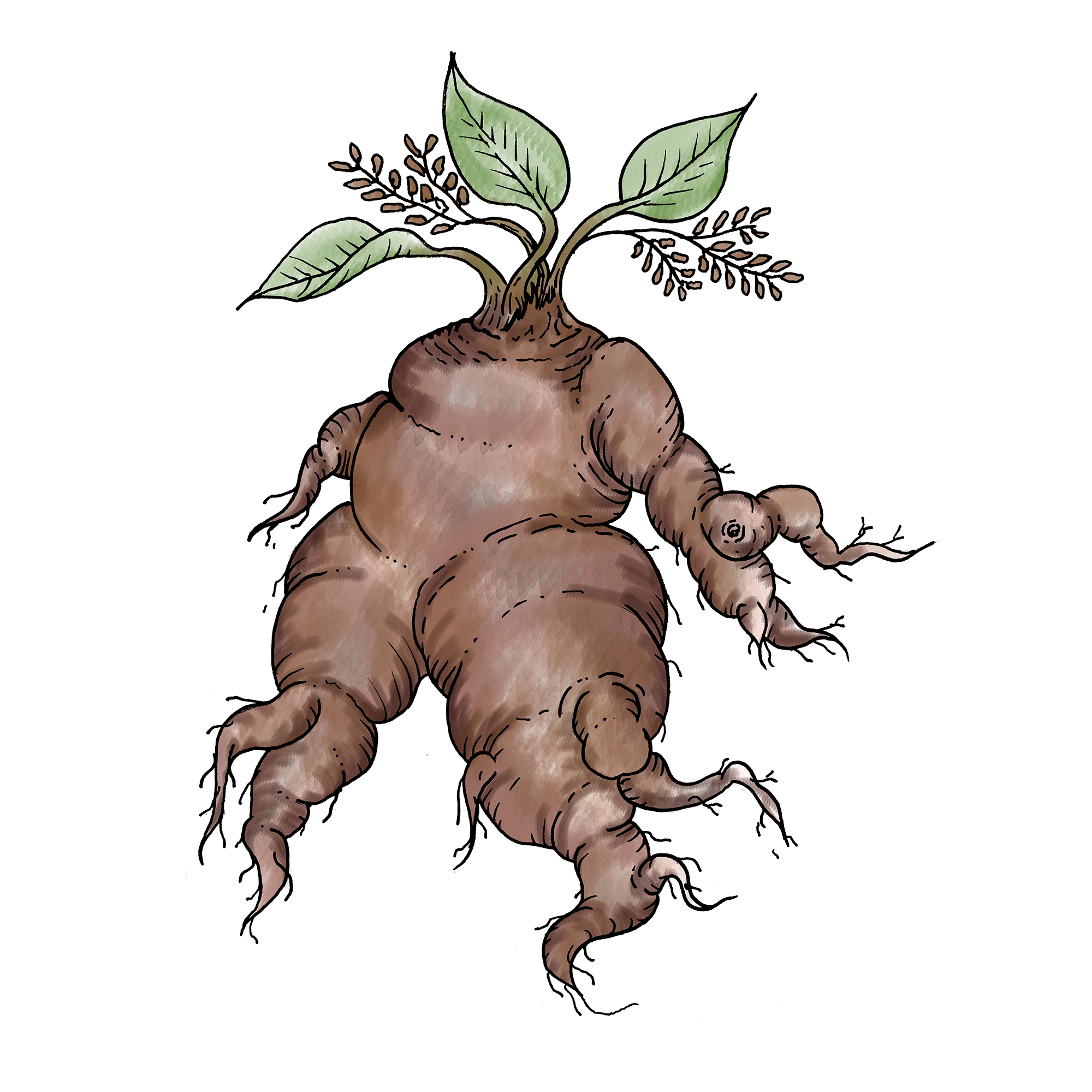 Fo ti
(Polygonum multiflora)
Historically understood as a promoter of longevity, vigor and fertility. While nourishing the heart and calming the spirit, this root helps to dispel any sense of pain, weakness, and fatigue. Overall, nurturing to the soul.
Study supports anti-proliferative effects on breast cancer cell lines (35)Known as a vitality enriching root.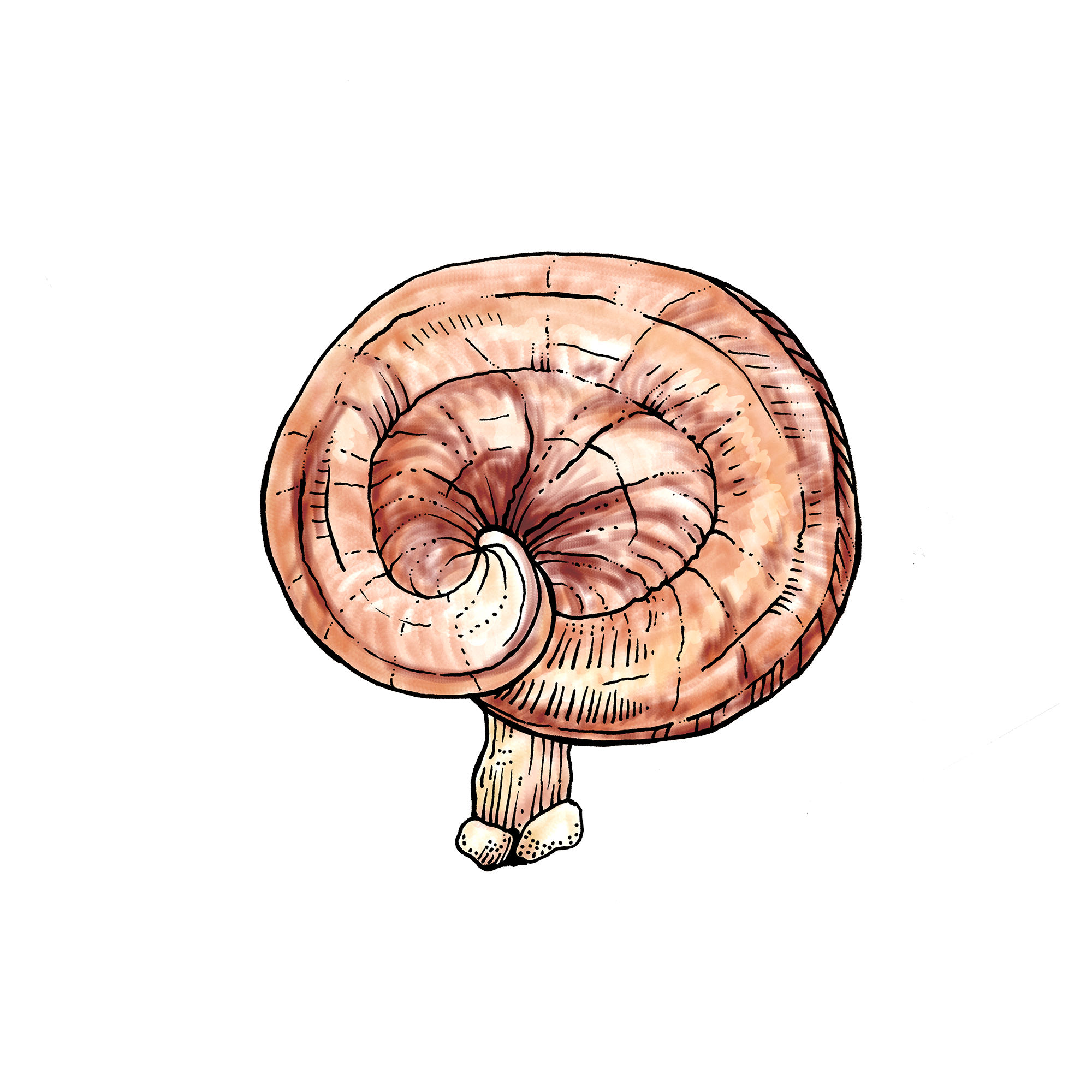 Reishi

(Ganoderma lucidum)
Beta-glucans, which are rich in reishi, have potent immunomodulatory effects. Have been utilized in cancer therapy in conjunction with anti cancer drugs (29).
Immunological effects are both beneficial for cancer prevention and for protection against viral, bacterial, fungal, and parasitic infections which are a higher risk in cancer states. (30)
Studies show benefit for inhibition of colorectal cancer cells growth and invasive behavior, induces ROS formation in cancer cells (damages cancer cells), protective for non-cancer cells, and improves the effect of 5FU (common cancer drug) in vitro (28)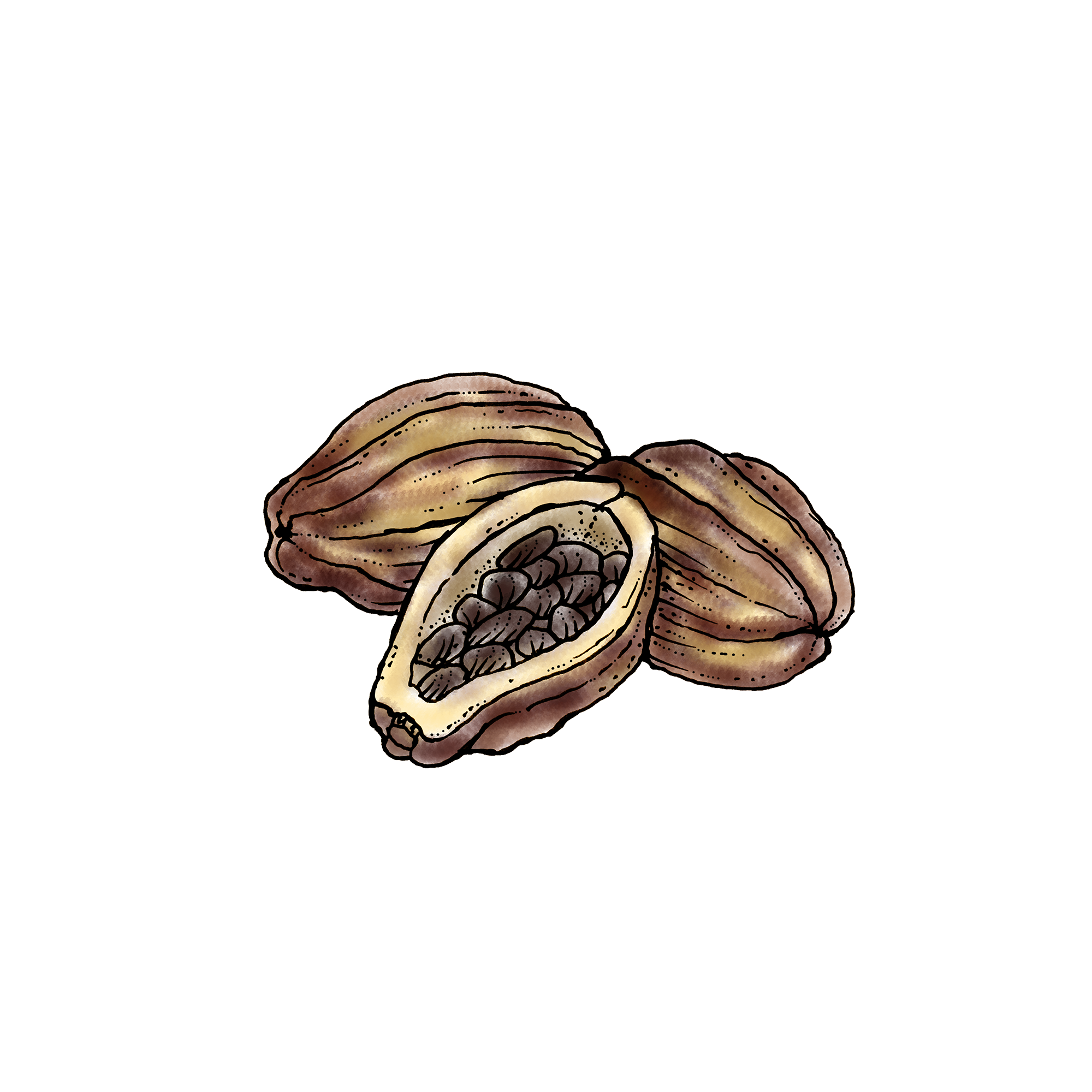 Shown to be preventative against oxidant-induced damage (neurologically and cardiac relation) associated with chemo agents, including doxorubicin (36)

Rich in flavonoids, known to decrease the risk of cancer occurence.Caffeine content has anti-cancer properties against both Estrogen receptor dependent and non-ER dependent Breast cancer (37,38)

Improves mood due to compound Anandamide, which is rich in cacao. In ayurveda, this is known as the "bliss molecule".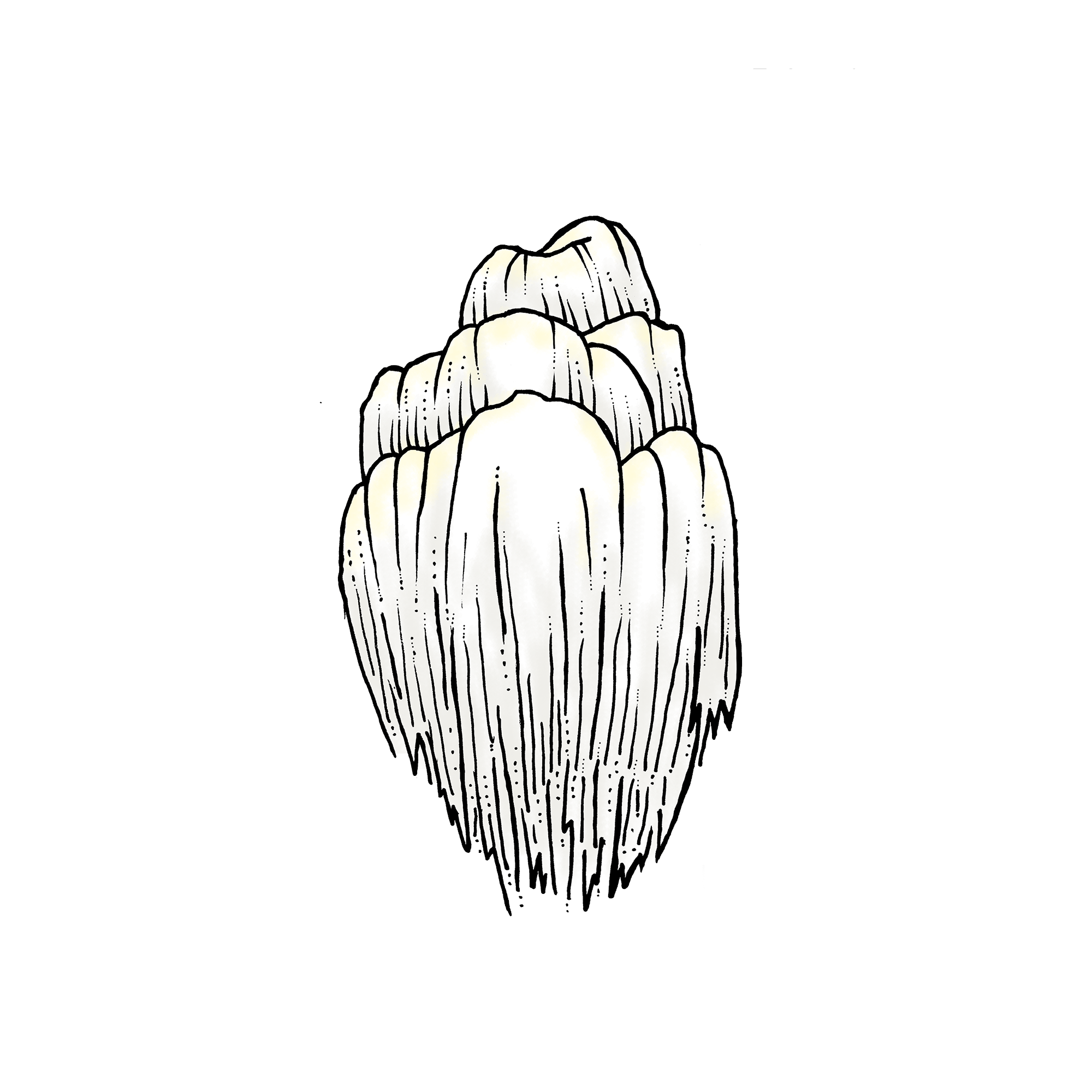 Lionsmane

(Herecium ernaceus)
Neuroprotective and neuro-regenerative potential, improvement in memory and mood
Multiple aromatic compounds have been identified as having anti-cancer effects via several mechanisms (31)
Two studies show that Lion's mane serves as an enhancer to sensitize apoptotic signaling mediated by doxorubicin (common cancer drug) (33,34)-- aka helps doxorubicin work more specifically on cancer cells rather than all human cells, decreasing potential for adverse effects.
Study findings suggest efficacy in hepatocellular carcinoma seen, when in combination with Doxorubicin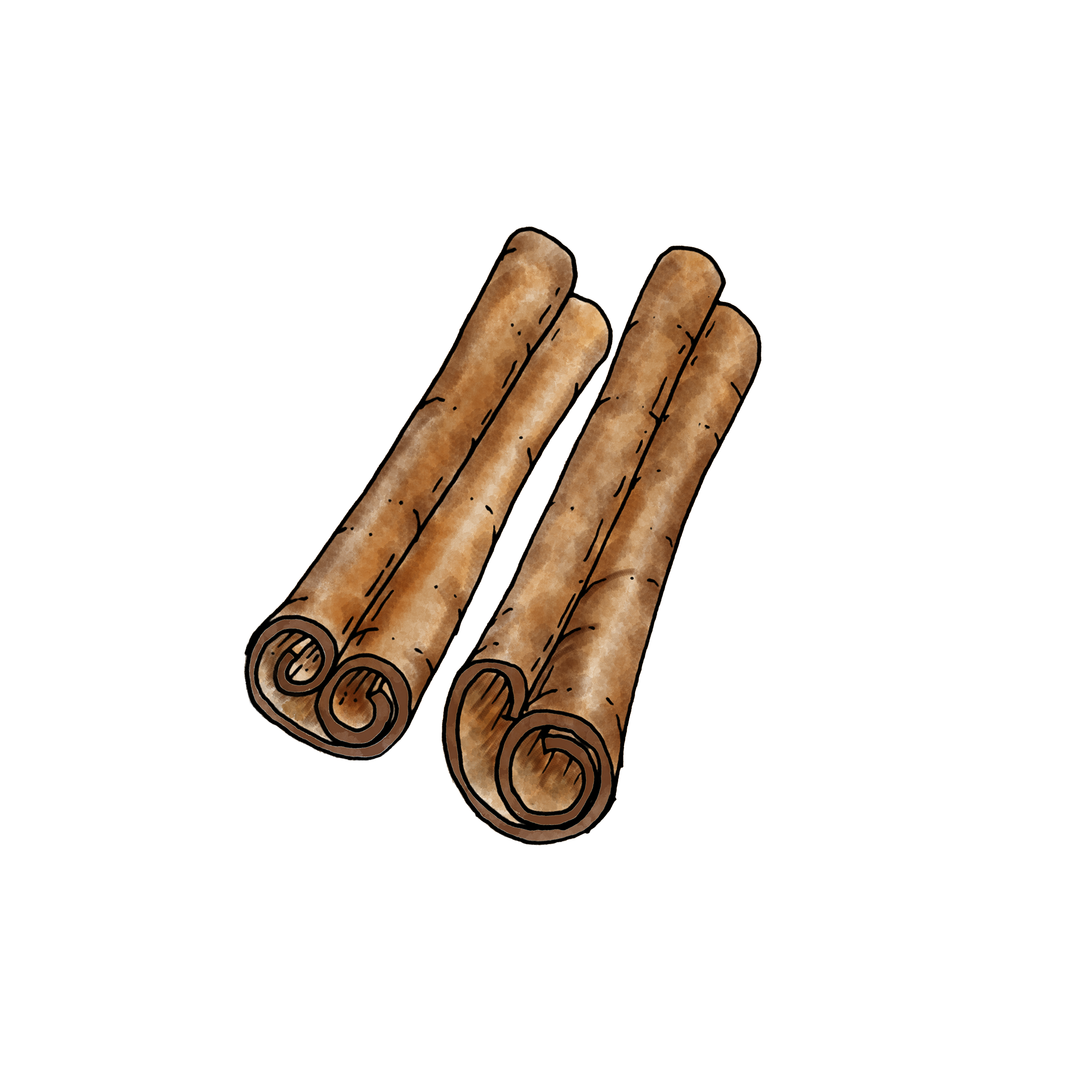 Cinnamon

(Cinnamomum zeylon)
A warming and nourishing herb, which dutifully dispels any stagnation and replaces it with an abundance of circulation.

Anti-cancer impacts via improvement in apoptosis (Cell death) and increasing CD8 cells (natural killer cells), responsible for destroying non-self cells. (39)
Liberates Qi and dispels stagnation.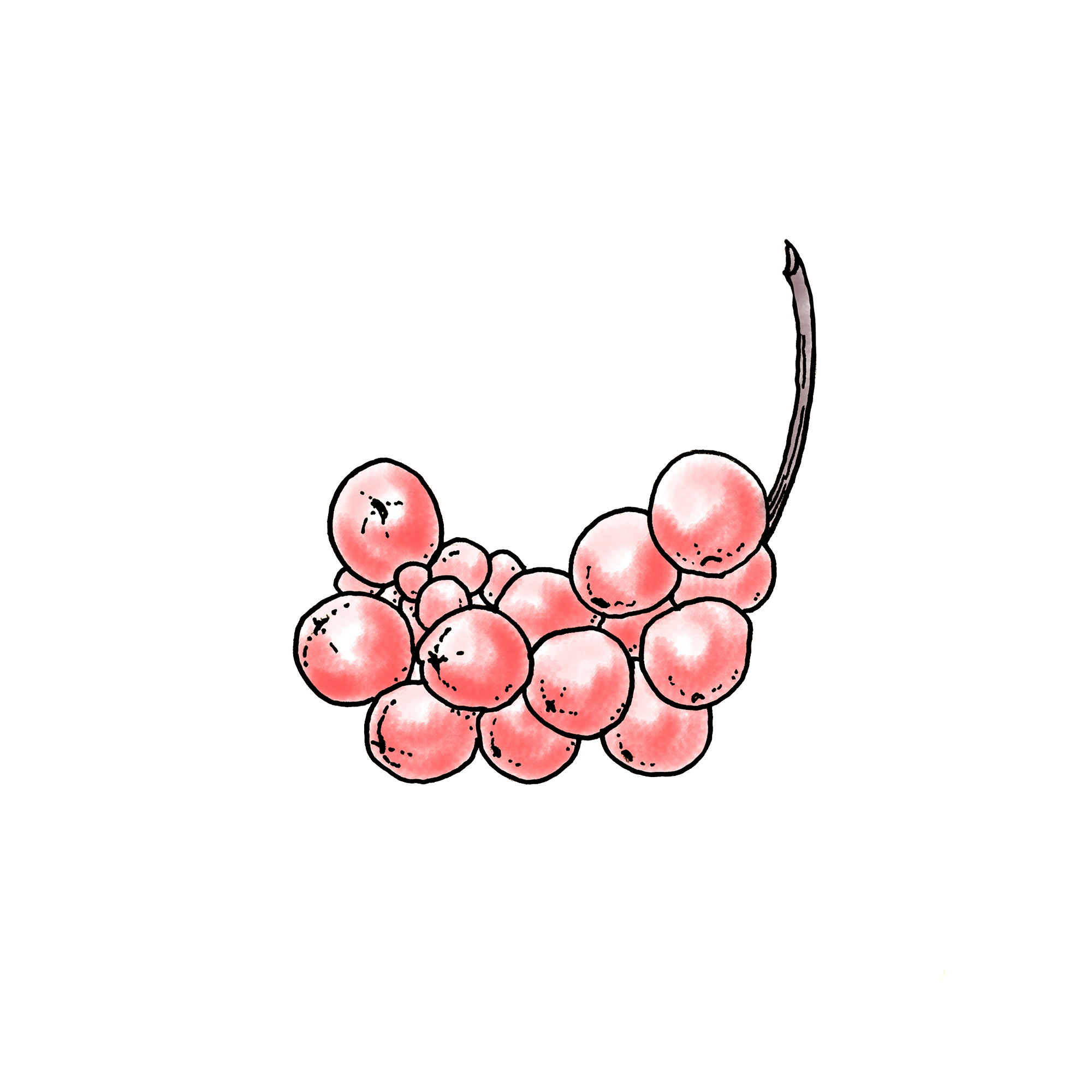 Schisandra

(Schisandra spp)
This powerful adaptogen helps our bodies adapt better to the stressors we come across, leading to a decrease in burden of stress-related-waste products to the liver. Harmoniously, schisandra also helps to restore function of the liver when injury has occurred.
Beneficial for prevention of immune injury during radiation.(25)
Antioxidant and antiproliferative properties (26)
Liver protective and chemoprotective properties (27)
Assists in adaptation to stress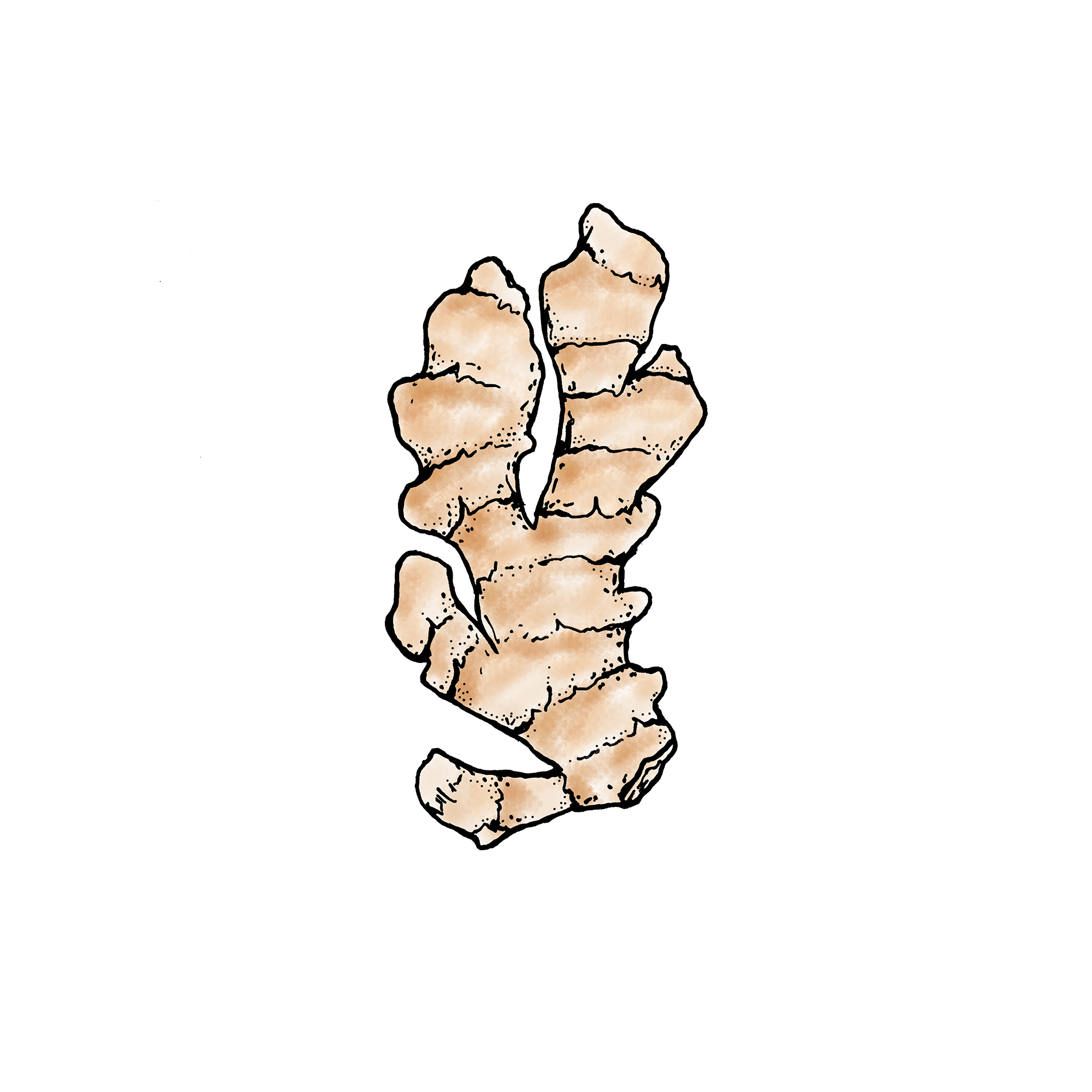 Ginger

(Zingiber officinalis)
This spicy root alleviates any sense of tension or gripping, infusing a sense of relaxation and gratification. Known to dispel external cold and harmonize the stomach. Importantly, ginger enhances the potential of this entire blend by 'driving' the medicine deep into the tissues.
Beneficial in chemotherapy induced vomiting & fatigue (19).
Warming and circulatory enhancing properties,
Hemp Oil Extracts
Traditional Hemp Extract, Potent Hemp Extract
Soothe' Herbal tincture with full spectrum hemp extract
White Willow, Devils claw, california poppy, Wild Yam, Feverfew, AlbiziaTargets the sensory components of pain, decreases overall inflammation, promotes repair of abnormalities in neural pain pathways, and supports the nervous system's response to painful stimuli.

Products for Insomnia/Anxiety/mental-emotional realm


Calm Tincture
Skullcap, Lemon Balm, Passionflower, chamomile, lavender, licorice, hemp. Designed to repair the nervous system, addressing common concerns such as anxiety, restless thoughts, depression, stress, tension, headaches and pain.
Liquid error: product form must be given a product
Sleep Herbal Hemp tea
Chamomile, passionflower, hops, damiana, holy basil, skull cap, oat tops, lavender. Designed to address the components of sleep from many angles, including restoration of the nervous system function and mood improvement. Helps normalize hormones that are responsible for wakefulness and restfulness.
The Use of Medical Marijuana in Cancer. Birdsall SM, Birdsall TC, Tims LA Curr Oncol Rep. 2016 Jul; 18(7):40.
The Synthetic Cannabinoid WIN 55,212-2 Elicits Death in Human Cancer Cell Lines. Müller L, Radtke A, Decker J, Koch M, Belge G. Anticancer Res. 2017 Nov; 37(11):6341-6345.

Cannabinoid pharmacology in cancer research: A new hope for cancer patients? Javid FA, Phillips RM, Afshinjavid S, Verde R, Ligresti A Eur J Pharmacol. 2016 Mar 15; 775():1-14.

Cannabinoid receptors: nomenclature and pharmacological principles. Console-Bram L, Marcu J, Abood ME Prog Neuropsychopharmacol Biol Psychiatry. 2012 Jul 2; 38(1):4-15.

Endocannabinoids and Cancer. Velasco G, Sánchez C, Guzmán M Handb Exp Pharmacol. 2015; 231():449-72.

Update on the endocannabinoid system as an anticancer target. Malfitano AM, Ciaglia E, Gangemi G, Gazzerro P, Laezza C, Bifulco M Expert Opin Ther Targets. 2011 Mar; 15(3):297-308.

Cannabinoids for cancer treatment: progress and promise. Sarfaraz S, Adhami VM, Syed DN, Afaq F, Mukhtar H Cancer Res. 2008 Jan 15; 68(2):339-42.

Cannabinoids as therapeutic agents in cancer: current status and future implications.Chakravarti B, Ravi J, Ganju RK Oncotarget. 2014 Aug 15; 5(15):5852-72.

Cannabinoids: potential anticancer agents. Guzmán M Nat Rev Cancer. 2003 Oct; 3(10):745-55.

Cannabinoid signalling. Demuth DG, Molleman A Life Sci. 2006 Jan 2; 78(6):549-63.

Cannabinoids: a new hope for breast cancer therapy? Caffarel MM, Andradas C, Pérez-Gómez E, Guzmán M, Sánchez C Cancer Treat Rev. 2012 Nov; 38(7):911-8.

Cannabidiol induces programmed cell death in breast cancer cells by coordinating the cross-talk between apoptosis and autophagy.Shrivastava A, Kuzontkoski PM, Groopman JE, Prasad A Mol Cancer Ther. 2011 Jul; 10(7):1161-72.

Crippa, José A et al. "Translational Investigation of the Therapeutic Potential of Cannabidiol (CBD): Toward a New Age." Frontiers in immunology vol. 9 2009. 21 Sep. 2018, doi:10.3389/fimmu.2018.02009
Curcumin: A review of anti-cancer properties and therapeutic activity in head and neck squamous cell carcinoma. Wilken R, Veena MS, Wang MB, Srivatsan ES

Curcumin as an anti-cancer agent: review of the gap between basic and clinical applications. Bar-Sela G, Epelbaum R, Schaffer M Curr Med Chem. 2010; 17(3):190-7.

The chemopreventive agent curcumin is a potent radiosensitizer of human cervical tumor cells via increased reactive oxygen species production and overactivation of the mitogen-activated protein kinase pathway. Javvadi P, Segan AT, Tuttle SW, Koumenis C Mol Pharmacol. 2008 May; 73(5):1491-501.
Curcumin sensitizes human colorectal cancer xenografts in nude mice to gamma-radiation by targeting nuclear factor-kappaB-regulated gene products. Kunnumakkara AB, Diagaradjane P, Guha S, Deorukhkar A, Shentu S, Aggarwal BB, Krishnan S Clin Cancer Res. 2008 Apr 1; 14(7):2128-36.
Wright, Laura E et al. "Bioactivity of turmeric-derived curcuminoids and related metabolites in breast cancer." Current pharmaceutical design vol. 19,34 (2013): 6218-25. doi:10.2174/1381612811319340013

Crichton, Megan, et al. "Efficacy of Ginger (Zingiber officinale) in Ameliorating Chemotherapy-Induced Nausea and Vomiting and Chemotherapy-Related Outcomes: A Systematic Review Update and Meta-Analysis." Journal of the Academy of Nutrition and Dietetics (2019).

M. Zhou, R.Q. Zhang, Y.J. Chen, L.M. Liao, Y.Q. Sun, Z.H. Ma, et al. Three new pyrrole alkaloids from the roots of Lepidium meyenii. Phytochemistry Letters, 23 (2018), pp. 137-140

C.Y. Liao, C.C. Lee, C.C. Tsai, C.W.Hsueh, C.C. Wang, I.H. Chen, et al. Novel investigations of flavonoids as chemopreventive agents for hepatocellular carcinoma. BioMed Research International, 2015(2015), Article 840542

Wang, Sunan, and Fan Zhu. "Chemical composition and health effects of maca (Lepidium meyenii)." Food chemistry288 (2019): 422-443.

V.P. Oza, P.P. Parmar, S. Kumar, R.B. Subramanian Anticancer properties of highly purified L-asparaginase from Withania somnifera L. against acute lymphoblastic leukemia. Appl. Biochem. Biotechnol., 160 (6)(2010), pp. 1833-1840

Palliyaguru, Dushani L., Shivendra V. Singh, and Thomas W. Kensler. "Withania somnifera: From prevention to treatment of cancer." Molecular nutrition & food research 60.6 (2016): 1342-1353.

Zhao, Lian-Mei, et al. "Prevention effects of Schisandra polysaccharide on radiation-induced immune system dysfunction." International journal of biological macromolecules 76 (2015): 63-69.

Zhang, Likang, et al. "Antioxidant and anti-proliferative activities of five compounds from Schisandra chinensis fruit." Industrial crops and products 50 (2013): 690-693.
S.R. Kim, M.K. Lee, K.A. Koo. Dibenzocyclooctadiene lignans from Schisandra chinensis protect primary cultures of rat cortical cells from glutamate-induced toxicity.Journal of Neuroscience Research, 76 (2004), pp. 397-405

Opattova, Alena, et al. "Ganoderma Lucidum induces oxidative DNA damage and enhances the effect of 5-Fluorouracil in colorectal cancer in vitro and in vivo." Mutation Research/Genetic Toxicology and Environmental Mutagenesis(2019).

Kidd, P. (2000). The use of mushroom glucans and proteoglycans in cancer treatment. Alternative Medicine Review, Volume 5, Number 1.

Gunde-Cimerman, N. (1999). Medicinal value of the genus Pleurotus. International Journal of Medicinal Mushrooms, Vol. 1, pp.69–80.

Li, Wei, et al. "Isolation and identification of aromatic compounds in Lion's Mane Mushroom and their anticancer activities." Food chemistry 170 (2015): 336-342.

Wang, Mingxing, et al. "A Polysaccharide Isolated from Mycelia of the Lion's Mane Medicinal Mushroom Hericium erinaceus (Agaricomycetes) Induced Apoptosis in Precancerous Human Gastric Cells." International journal of medicinal mushrooms 19.12 (2017).

Lee JS, Hong EK. Hericium erinaceus enhances doxorubicin-induced apoptosis in human hepatocellular carcinoma cells. Cancer Lett. 2010 11/28;297(2):144-54.
Lee JS, Cho JY, Hong EK. Study on macrophage activation and structural characteristics of purified polysaccharides from the liquid culture broth of hericium erinaceus. Carbohydr Polym. 2009 8/4;78(1):162-8.
Chen, Hong-Sheng, et al. "Anti-proliferative effect of an extract of the root of Polygonum multiflorum Thunb. on MCF-7 human breast cancer cells and the possible mechanisms." Molecular medicine reports 4.6 (2011): 1313-1319.
Kosoko, A. M., O. J. Olurinde, and O. A. Akinloye. "Doxorubicin induced neuro-and cardiotoxicities in experimental rats: Protection against oxidative damage by Theobroma cacao Stem bark." Biochemistry and biophysics reports 10 (2017): 303-317.
A.H. Rosendahl, C.M. Perks, L.Zeng, A. Markkula, M. Simonsson, C.Rose, et al. Caffeine and caffeic acid inhibit growth and modify estrogen receptor and insulin-like growth factor I. Receptor levels in human Breast cancer. Clin. Cancer Res., 21 (2015), pp. 1877-1887
J.S. Sisti, S.E. Hankinson, N.E.Caporaso, F. Gu, R.M. Tamimi, B.Rosner, et al. Caffeine, coffee, and tea intake and urinary estrogens and estrogen metabolites in premenopausal women. Cancer Epidemiol. Biomarkers Prev., 24 (2015), pp. 1174-1183

Kwon, Ho-Keun, et al. "Cinnamon extract suppresses tumor progression by modulating angiogenesis and the effector function of CD8+ T cells." Cancer letters 278.2 (2009): 174-182.